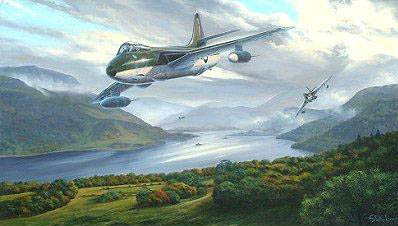 "Hunters Over The Lakes"
Ref: SWA-SB21
by Stephen Brown


Overall size 27" x 19"


Edition size: 350




Right from its first test flight by Neville Duke in 1951 the Hunter has been universally acclaimed by pilots for its balance, control, manoeuvrability and responsiveness. In Stephen Brown's dramatic painting, pilots of 66 Squadron put their Hawker Hunter F.6s through their paces on a training sortie over the English Lake District in 1959.

Originally conceived as a counter to the growing Cold War threat of the Soviet Union, the Hawker Hunter went on to serve in the RAF for well over 3 decades, equiping a total of 30 fighter squadrons. It also provided much needed export revenues with sales to some 19 overseas airforces.