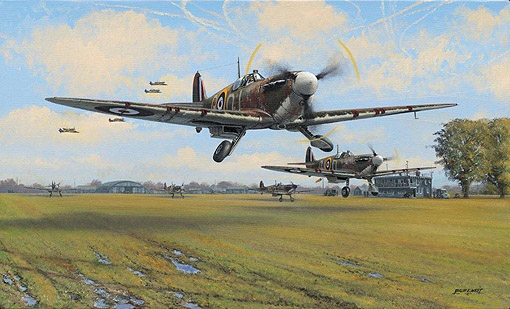 "Spitfire Scramble"
Ref: SWA-PW99
by Philip E. West.


Overall size of print approx 20in x 28in / 53cms x 71cms.


Limited Edition of 100 Prints


Flt. Lt. Geoff 'Boy' Wellum leads this flight of Spitfires from 92 Squadron in a scramble to take on the might of the German Luftwaffe during the height of the Battle of Britain.


No 92 Squadron was first formed on the 1st September 1917 at London Colney and was disbanded on 7th August 1919. Following the outbreak of the Second World War 92 Squadron reformed on 10th October 1939 at RAF Tangmere and first saw action over the Dunkirk evacuation beaches. The Squadron was the first into action on September 15, 1940, now known as Battle of Britain Day. Towards the end of the Battle of Britain 92 Squadron flew from Biggin Hill. By the end of 1940 the Squadron tally stood at 127 German aircraft destroyed.


The Limited Edition is signed by former Battle of Britain pilot Geoffrey Wellum DFC.