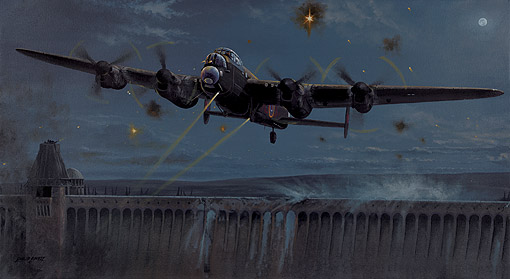 "Operation Chastise - The Dambusters"
Ref: SWA-PW95
by Philip E West


Overall print size approximately 20in x 27in/ 51cms x 71cms


Primary Edition of 100 prints

prints are signed by the artist and also Dambuster Squadron Leader George 'Johnny' Johnson DFM (Bomb Aimer 617 Squadron) who flew on AJ-T, with American pilot Joe McCarthy when his crew attacked the Sorpe Dam, for which Johnny was awarded the DFM. Before then, he had been part of 97 Squadron. Johnny went on to fly 40 missions with Joe McCarthy at the controls.




During the night of May 16/17, 1943, 19 Lancaster's of the newly formed 617 Squadron carried out daring raids against four dams in the Ruhr. The Primary target was the Mohne dam. Here we see Flt Lt Maltby and crew in AJ-J flying clear of the Mohne before their Upkeep mine exploded against and breached the dam. Operation Chastise became a legend in the annals of the RAF and military history.