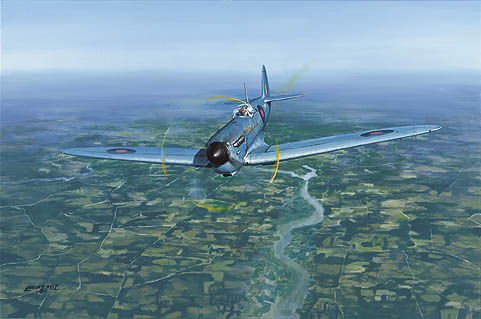 "Mission Accomplished"
Ref: SWA-PW61
by Philip E West


Overall size 28" x 20" Image size 24" x 14"


Edition size: 150


17th May 1943, Sqn. Ldr. Frank (Jerry) Fray in his Spitfire PRX1 of 542 Squadron operating out of RAF Benson, Oxfordshire, returned alone and unarmed to gather photographic evidence from 30,000 feet of the Mohne dam which had been breached earlier the same day by 617 Squadron Lancaster bombers.



Philip says, "This is another painting where I have been very fortunate to call on the personal experience of someone who was there at the time. Jerry Fray has been enormously helpful with regard to checking my drawings and painting for accuracy. As with the Tirpitz Re-visited painting, I have tried to draw attention to the largely unknown and heroic contribution made by the PRU squadrons towards winning WW2. For me it has been an honour to record on canvas and in print the two of the many hundreds of PRU missions conducted during the war."