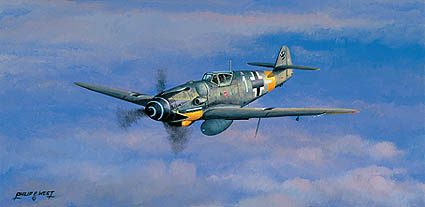 "The Black Tulip"
Ref: SWA-PW42
by Philip E West


Limited Edition of 175


Overall size 28 in x 17½ in


Erick Hartmann flying his Me109 'Black Tulip' during a quiet moment, late on a busy day of combat. By wars end he had scored 352 combat victories during 1400 missions. Hartmann was decorated with the Knights Cross with Oak Leaves, Swords and Diamonds, Germany's highest military award.