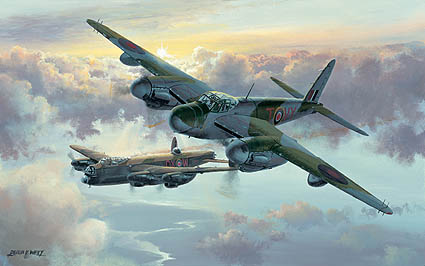 "Safely Home"
Ref: SWA-PW41
By Philip E West


Edition size: 250


Overall size 28" x 20"


The dawn of a new day illuminates a Lancaster of 57 Squadron returning to East Kirkby from night ops over occupied Europe, escorted by a Swannington based Mosquito night fighter of 85 Squadron.


All are signed by Lancaster pilot Flt. Lt. Phil Ainley DFC and the RAF top (21 victories) night-fighter pilot Sqn. Ldr. Branse Burbridge DSO and Bar, DFC and Bar.