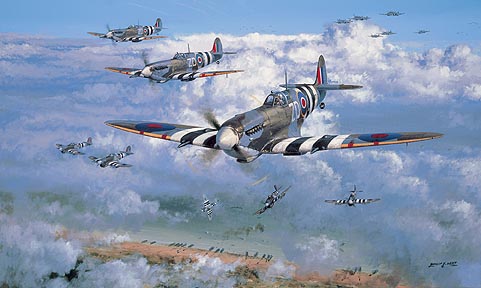 "Over the Beaches"
Ref: SWA-PW30
by Philip E. West.


Edition 350


The overall size of the print is approx. 28" x 20".



One of the Spitfire signatories began his RAF career flying Gladiators from an aircraft carrier off Norway. He then went on to fly Hurricanes from HMS Ark Royal off Malta. He also took part in the Battle of Britain and "Operation Overlord". A very rare and distinguished signatory.


All the prints will be signed by no less than two Spitfire and two Typhoon pilots who took part in "Operation Overlord".


A painting depicting Spitfires (222 squadron) and Typhoons over the beaches during D-Day.


This painting is truly a Masterpiece of aviation art. The detail on the Spitfires is breathtaking - we can only try to imagine the hours of painstaking fine brushwork Philip has put into this painting. Then there's the number of aircraft in this picture - the most ever in a Philip West painting!