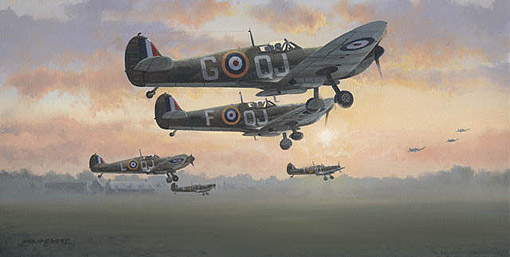 "First Light - Battle of Britain July 1940"
Ref: SWA-PW13
by Philip E. West


Limited Edition of 150


Approx. Overall print size 16in x 26in / 40cms x 66cms.


Each print signed by Flt. Lt. Geoffrey Wellum DFC


Squadron Leader Geoffrey Wellum DFC joined the RAF with a Short Service Commission in August 1939. He joined no 92 Squadron flying Spitfires in June 1940 at the time of Dunkirk . He flew throughout the Battle of Britain, later completing over 50 fighter sweeps and escorts over northern France and Belgium until August 1941. He then joined 65 Squadron as Flight Commander in March 1942 operating over northern France and flew off Aircraft Carrier Furious on operation Pedestal, to Malta. (Geoff was a Flt. Lt. during "Operation Pedestal") He returned to the UK as a test pilot Gloster Aircraft and finished the war as a Pilot Attack Instructor.


Geoffrey was credited with three destroyed, four probables and several damaged and was awarded the DFC in July 1941.

Another busy start to the day at Biggin Hill in the summer of 1940. The Battle of Britain is at its height and 92 Squadron Spitfires with Geoffrey Wellum in 'G' for George, depart under early morning sunlight to engage a mass of incoming enemy aircraft over the southeast coast. By the end of 1940 the Squadron was credited with having destroyed 127 German aircraft.