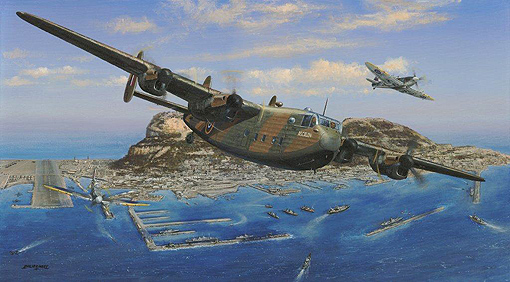 "Churchill's Maiden Voyage in Ascalon"
Ref: SWA-PW118
by Philip E West

Overall print size approx: 20 in x 27½ / 51 x 70cms

Limited Edition of 100 Prints


May 28th June 1943. Gibraltar. Avro York 'Ascalon' leaves the North Front with a Spitfire escort. On board were Prime Minister Winston Churchill, Anthony Eden, Generals Alexander, Ismay and Allenbrooke, plus Air Marshal Tedder and General Marshall (USA) all heading out on a tour of North Africa with stops in Algiers,
Chatcaudun du Rhummel (a USAAC B-17 base), Tunis and Grombalia.The Avro York was built as a transport aircraft using the wings and tail arrangement from the Lancaster Bomber design.


Air Commodore John Mitchell LVO,DFC,AFC, AE had a remarkable career.
In the pre-war RAF Volunteer Reserve as an Observer, he was mobilised on 1st Sept '39 and after training narrowly missed being posted to a Fairey Battle squadron in France where the chances of survival were low. He was instead transferred with little further training to night bomber operations on Whitley's. He survived a tour of operations during the winter 1940-41, including a ditching in the North Sea.

Awarded the DFC he was posted to Canada for further specialised training and then became involved in the development of the Celestial Navigation Trainer at the famous Link Trainer factory at Binghamton N.Y., the first such simulator in the US or the RAF. For his work there he was awarded the U.S. Legion of Merit with its citation signed by President Truman. Returning to the UK and a spell in the Air Ministry Navigation Dept, he was selected to join the RAF crew being posted to the Prime Minister's personal Avro York aircraft "Ascalon". For two years he navigated Churchill and his entourage to a number of international conferences from North Africa, Italy, the Middle East and Teheran, to Moscow and Yalta. He also flew HM King George VI to North Africa in '43 and Italy in 44, for which he was given the Victorian Order (LVO), an award in the gift of the Sovereign.

After the war he filled a number of senior navigation appointments, including taking part in the 1951 transpolar exercises in the Long-range Lincoln Aries III.
A tour as Senior Intelligence Officer at NEAF HQ in Cyprus was followed by appointment as Defence Attaché in Moscow during the Cold War, with subsequent employment on the Defence Intelligence Staff in London."