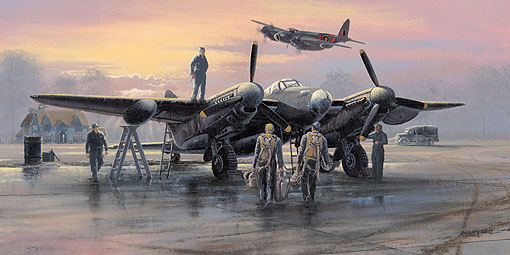 "Mosquito Pathfinders"
Ref: SWA-PW112
by Philip E West


approx overall size 18" x 27" / 46 x 78cms


Primary Edition of 100


Groundcrew busy themselves readying their de Havilland Mosquito as the aircrew head out towards the Aeroplane for yet another mission to a high value target over occupied Europe during WW2. Their dangerous job as Pathfinders is to accurately mark and bomb the target for the main heavy bomber force. It required great skill in navigation, airmanship and courage. The Mosquito proved to be a real thoroughbred and idea for many varied combat sorties so earning the nick-name The Wooden Wonder.


All the Primary Edition prints are signed by the artist and:-

Flying Officer Doug Waite volunteered at the age of 18 and went solo at Brough in Yorkshire, from where he went to Canada for further training at EFTS and SFTS with a final period at Spitalgate near Grantham flying Blenheims, Beauforts and Beaufighters. Doug then joined 169 Squadron Mosquito night-fighter unit attached to 100 group, conducting various deployments. The last one being 48 hours before the war ended, flying to Sylt at low-level dropping Napalm jelly 100 gallon drop tanks as bombs.