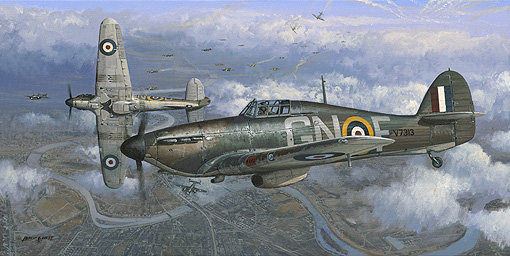 "Height of the Battle"
Ref: SWA-PW111
by Philip E West


approx overall size 18" x 27" / 46 x 78cms.


Primary Edition of 100


Depicting Wing Commander Tom Neil about to join in the combat with German bombers over London.


At the height of the Battle of Britain, the RAF stood alone facing an enemy determined in their goal of total victory. Little did they understand the mentality of the defenders strength of conviction, courage and shear bloody mindedness to protect the homeland. British and Commonwealth pilots together with others from far off lands joined the RAF in battle and after much sacrifice won the air war for all freedom loving people


Signed and individually numbered by the artist.


Signed also by legendary WW2 pilot:-


Group Captain Billy Drake DSO, DFC*, DFC (US) joined the RAF on a Short Service Commission in July 1936. He joined No. 1 Squadron at RAF Tangmere in May 1937 flying the Hawker Fury before converting to the Hawker Hurricane.


He flew Hurricanes in France at the outbreak of war, scoring his first victory in May 1940. Having achieved two further victories over France he was shot down and wounded by a Messerschmitt BF 110. In October 1940 he returned to operational duty with No 213 Squadron at RAF Tangmere, flying Spitfires. Posted to the Western Desert in early 1942, Billy Drake took command of 112 Squadron, flying P40 Kittyhawks, leading them with considerable success. He later served in Malta, and then as Wing Leader of 20 Typhoon Wing. Billy Drake was an outstanding Ace, scoring 24½ victories and in addition, another 13 aircraft on the ground.


Although one of the only two pilots in this photo not to receive a DFC in June 1940 (having been shot down and wounded on 13 May), he was to end the war as the most successful of all this group of outstanding fighter pilots. He had by then been promoted to Wing Commander, and had claimed some 28 aircraft shot down (three of which were shared and two unconfirmed), plus 15 more destroyed on the ground. He had also been awarded a DSO, DFC and Bar, and a US DFC. He remained in the RAF post-war, becoming a Group Captain.