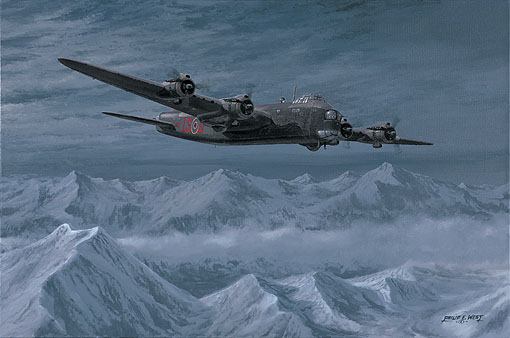 "The Night Shift"
Ref: SWA-PW108
by Philip E West


Image Size: 19½" x 26"/ 49cms x 66cms


Limited Edition of 100


The Short Stirling was the RAF's first four-engined bomber to enter service and it served throughout WW11 in many roles including bomber, minelayer, troop carrier and glider-tug. The lack of power produced by its engines severely limited the loads carried by Stirlings. On long-range trips such as Italy, even with a greatly reduced bomb load the aircraft could barely clear the Alps. Despite very large losses due to its operational limitations, those that flew this big, agile aircraft, came to respect and look upon it with it with affection.

Two Victoria Crosses were awarded to Stirling pilots.


This print has been signed by the artist and the following former Stirling pilot


Flt. Lt.R. Livermore (Pilot) was part of 299 Air Support Squadron in Norfolk. He flew six ops. on Stirlings, taking supplies to the French resistance - dropping 24 containers at a time by parachute at night, each one full of supplies, including guns and ammunition. They had to arrive at the target area within a five minute period, or else

the resistance would leave for fear of a trap being set by the Germans. When the resistance were satisfied they were watching the correct aircraft they would flash they torches on and off as both a signal and also to pinpoint the drop zone. Flt. Lt. Livermore also towed gliders behind his Stirling aircraft during the Rhine crossing.