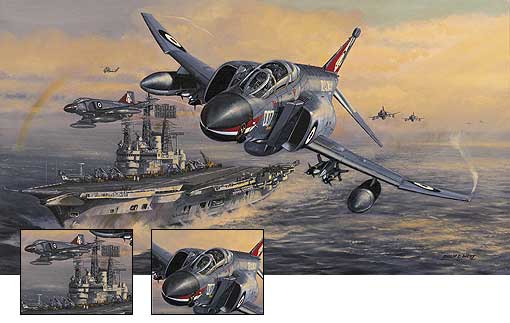 "Phantoms and the Ark Royal"
Ref: SWA-PW102
by Philip E West

Approx. overall print size: 18in x 28in/ 46 x 71cms

Limited Primary Edition of 100

Edition is signed by the artist and:

Lt Cdr David Braithwaite MBE MRAes MCIM (Pilot) started flying in 1964. He was with Front Line Sea Vixens from 1966 in 890, 892, 893, 899 Squadrons, before flying F4 Phantoms from 1971 to 1984 off Ark Royal and for 2 tours with the USN as a Warfare Instructor and Operational Test Director.

He became Top Gun Qualified in 1972 and flew 6 types of F4 and 2 types F14 jets. David continued as the Senior Pilot on 809, 800 and 801 Squadrons Sea Harrier, having completed Weapons Evaluation on IFTU at Yeovilton.

Greenwich and Aviation Staff trained and MOD Warrior in 1985. He has accrued over 1000 hrs in three operational types with in excess of 1400 fixed wing day and night deck landings. - and survived!

Pictured during her final call to duty. The majestic, Royal Navy HMS Ark Royal, sailed into wind to recover Phantom's returning from a cap mission. In operational service the Phantom provided immense additional capability to the Fleet Air Arm. Mach 2 performance, impressive range, all-weather, strike and air defence. In the 1970's. Ark Royal had a complement of 2250 crew, 2640 including air staff. 39 aircraft comprising 892 Sqn Phantom's, 809 Sqn Buccaneer's, 849 Sqn Gannet's, 824 Sqn Sea King's. Two Ship's Flight Wessex helicopters one Gannet for Carrier Onboard deliveries. She entered HMNB Devonport for the last time on 4 December 1978 and decommissioned on 14 February 1979 when the White Ensign was lowered for the last time. So ended the illustrious career of R09. A much loved and respected ship.