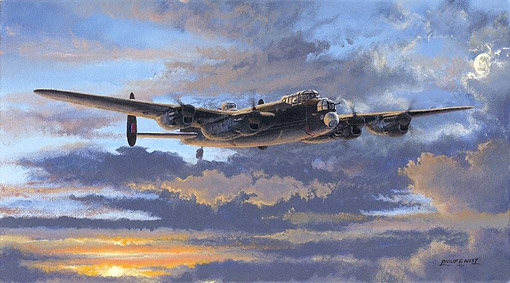 "Towards Victory"
Ref: SWA-PW100
by Philip E West


Overall print size approx: 13½ x 19in / 34cms x 48cms.


Limited Edition of 100


The Primary Edition is signed by former Lancaster pilot Joe Petrie Andrews


The Avro Lancaster was undoubtedly the RAF's greatest bomber of World War 2. Stemming from the unsuccessful Avro Manchester the Lancaster carried the night bomber offensive deep into occupied Europe.


Over 7,300 Lancaster's were built with the last being delivered in 1946.


The Primary Edition has been signed by the artist and the following distinguished WW2 Lancaster pilot.


Flt. Lt. Joe Petrie-Andrews DFC. DFM joined the RAF at "about 14 or 15 years of age." Rejecting the opportunity to become a bomb-aimer, Joe was determined to pester the RAF until they would accept him on a pilot's training course. Flying mainly Lancaster and Halifax aircraft, Joe joined 158 and 35 Squadron's, and later became part of the Pathfinder Force. During an operation to bomb Cannes in southern France on 11th November 1943, Joe's (aged only 19) Halifax was badly shot up, forcing him to ditch the aircraft in the Mediterranean, where he and the crew spent three days in a dingy before being rescued; for this operation Joe was awarded an 'immediate' DFC. He completed 68 operations, 60 before his 20th birthday on 11/7/1944.