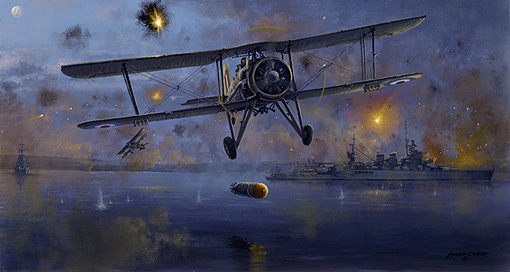 "Operation Judgement -The Taranto Raid"
Ref: SWA-PW08
by Philip E. West
Limited Edition of 100 SOLD OUT
Artists Proofs now only available
Approx. overall print size 16½in x 26½in / 420cms x 67cms
Signed by Capt. AWF Sutton DSC* (Took part in the Taranto raid)
The attack on Taranto was the first major victory for naval air power in the world and blueprint for the strike on Pearl Harbor. The Fleet Air Arm played an active part in the fight against the Axis forces in the Mediterranean. Their greatest achievement was the strike against the Italian Fleet at Taranto, 11 November 1940 by four Fleet Air Arm squadrons and 40 or so men who carried out this daring raid. In this picture we see the Swordfish flown by Lt. FMA Torrense-Spence and Lt. AWF Sutton, having just released its torpedo.
The bravery of the Swordfish aircrew in this and all other operations is a matter of history and must never be forgotten.