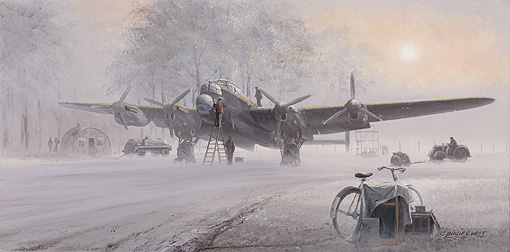 "In the Mists of Time"
Ref: SWA-PW07
by Philip E. West


Limited Edition of 200


Approx. overall print size 16½in x 26½in / 420cms x 67cms



This edition has been fully signed by Lancaster pilot Flt. Lt. Phil Ainley DFC.


The Lancaster is one of the most famous aircraft of all time. During the Second World War some 7,377 examples of this aircraft were built and saw service with British and Commonwealth bomber squadrons in the dangerous skies over Germany and Occupied Europe. Of these Lancasters, 3,345 were lost in action.

A superb new painting and Limited Edition Print from one of the world's top aviation artists, capturing perfectly the atmosphere on this wintry morning, when not even the freezing weather would stop the ground-crew from their work.