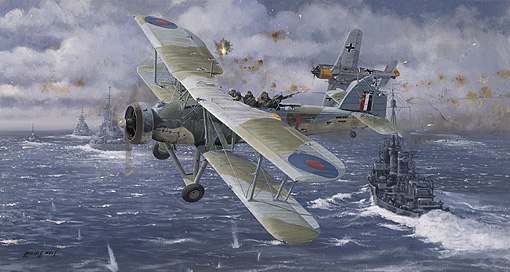 "Operation Cerberus - The Channel Dash"
Ref: SWA-PW05
by Philip E. West


Limited Edition of 100


Approx. overall print size 16½in x 26½in" / 420cms x 67cms


The Channel Dash (officially known as Operation Cerberus) was one of three operations during the Second World War for which the Swordfish was to become the most famous. Heavily outgunned in the Straits of Dover on this day in February 1942 by the German warships Scharnhorst, Gneisenau and Prinz Eugen, with their accompanying flotilla of destroyers and motor torpedo boats, and with top cover provided by deadly fighter aircraft of the Luftwaffe, all six Fleet Air Arm Swordfish were shot down. Only five of the eighteen aircrew survived. Here we see the Swordfish flown by Sub. Lt. Kingsmill and Sub. Lt. Samples with PO Bunce in the rear, fighting for their lives with his machine gun.

The bravery of the Swordfish aircrew in this and all other operations is a matter of history and must never be forgotten.