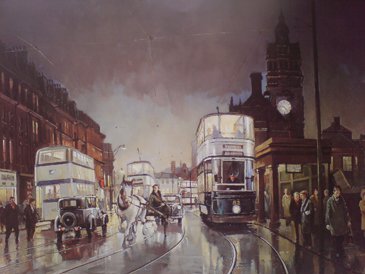 "Sheffield Reflections"
Ref: POJ018
by Peter Owen Jones


"Sheffield Reflections"

Pinstone Street, Sheffield, 1950's


Open edition print - lithograph


Image size: 540 x 400mm


To the right are the Peace Gardens, formally known as St Paul's Gardens and the original site of St Paul's church. This was demolished in 1939 to make room a new Town Hall extension but due to the outbreak of war in 1939, this was postponed and later cancelled. This area was renamed the Peace Gardens following the signing of the Munich agreement. This painting is a prime example of Peter's ability to capture mood and light with his clever use of colour.