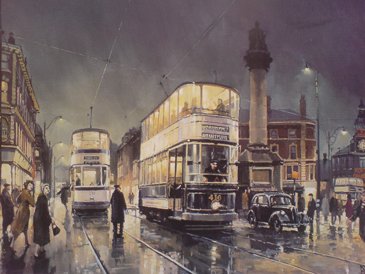 "Hometime"
Ref: POJ017
by Peter Owen Jones


"Hometime"

The Moor, Sheffield. 1950's


Limited edition 850 - lithograph


Image size: 295 x 420mm


Do you remember those really wet nights when the skies were heavy from the smog laden skies? The rain fell and the streets glistened with the reflections from the shop windows, each offering respite from the damp evening. The golden light and the familiar bell ringing from the approaching trams never failed to raise the spirits reminding us that Sheffield supported a very efficient transport system that served the city so well.