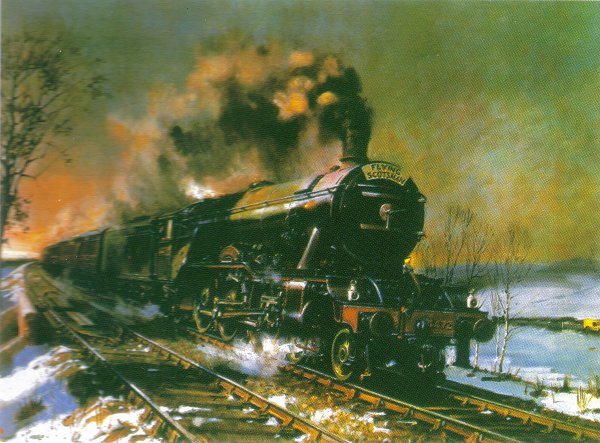 "The Flying Scotsman"
Ref: NG-TC-LFX2
by Terence Cuneo

Limited numbered edition of 850 prints.

Image size 15.5 inches x 10.5 inches (40cm x 26cm)
Paper Size: 18 x 13.5 in (46 x 34.5 cm)

The Flying Scotsman is a LNER Class A3 Pacific Locomotive no.4472 and was built in 1923 for the London and north Eastern railway at the LNER Doncaster. The Flying Scotsman was designed by Sir Nigel Gresley. The Flying Scotsman represented the LNER at the British Empire Exhibition at Wembley in 1924. The Flying Scotsman was used on the London to Edinburgh service and on the 1st May 1928 she pulled the inaugral train on this route. The London to Edinburgh journey of 392 miles was completed in 8 hours non stop. This was due to the 9 tons of coal carried in the eight wheeled tender and the water trough system to taking on water. On the 30th November 1934 the Flying Scotsman became the first steam locomotive to officially record 100mph and the land speed record. In her career she travelled 2 million miles.