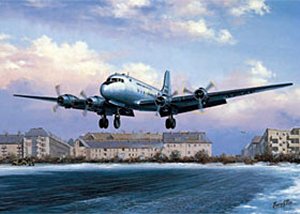 "The Berlin Airlift - Templehof - 1948"
Ref: NG-LE45
by Barry Price

Artist Signed Limited Edition of 850 numbered copies.

Colour Plate 16.5" x 24.5", 41.5 x 62cm

In 1948 Stalin's ruthless rule over post-war Eastern Europe was extended to a blockade of the land supply routes to West Berlin. The freedom of West Berlin's 2 million population was maintained during 1948 and 1949 by a massive airlift of food, coal and other supplies 'over the Iron Curtain'.