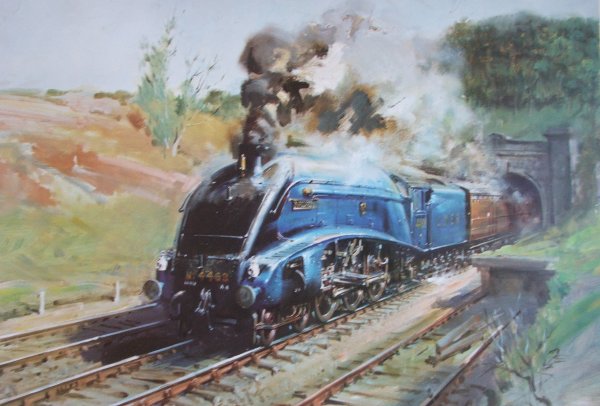 "Mallard"
Ref: NG-TC-FX5
by Terence Cuneo

Open edition print.Large Format

Image size 21 inches x 31 inches (53cm x 79cm)

Record breaking LNER Loco No. 4468 in full steam. The magnificent Mallard was a London and North Eastern Railway, Clas A4 4-6-2 Pacific Steam Locomotive. built by LNER Doncaster in 1938. The Mallard was designed by Sir Nigel Gresley. The Mallard was designed to travel at speeds of 100 mph and to pull the high speed streamlined trains and remained in service until 1963 and was painted in the very distinctive garter blue with red wheels and trim. The Mallard is the holder of the Steam Locomotives World Speed record set at 126 mph. The record was achieved on the 3rd July 1938 on the east Coast Main Line juist south of Grantham. (The previous holder was a German DRG class o5 which stood at 124 mph set in 1936) The Mallard was restored to full working order in the 1980s and nis now part of the national Colletion at the National Railway Museum in York.