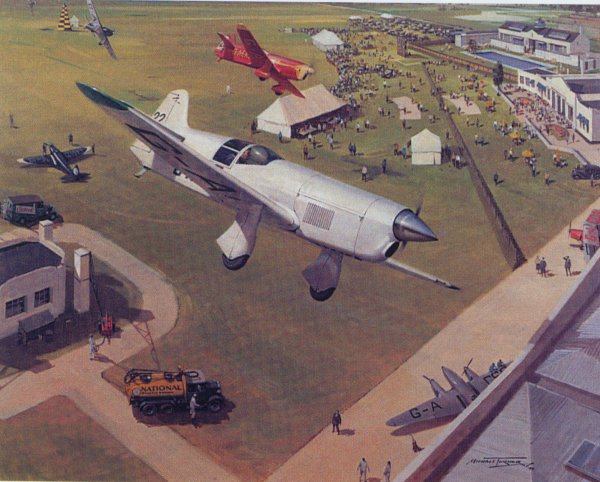 "1938 King's Cup"
Ref: MT003
by Michael Turner
LIMITED EDITION OF 500 PRINTS.
Overall print size 50cm x 43cm (20"x 17").
Each print is individually signed and numbered by the artist and
countersigned by ALEX HENSHAW M.B.E.
ALEX HENSHAW enjoyed a world wide reputation as a successful air racing and record breaking pilot in the 1930s, and apart from winning the 1938 King's Cup race, his most famous flight was from England to Capetown and back in the same Mew Gull in 1939, setting a record which is still unbroken. During WW II he was chief production test pilot at Vickers' Castle Bromwich factory, flight testing hundreds of Spitfire and Lancaster aircraft.
Alex Henshaw in his winning Mew Gull, swoops low over Hatfield airfield, followed by Giles Guthrie's Mew Gull and Les Cliff's Hawk Major. Seen on the ground are Geoffrey de Havilland's Tk-2 and D.H. Comet G-ACSS. The winner's race average of 252.25 mph is the fastest ever recorded by a British winning aircraft.