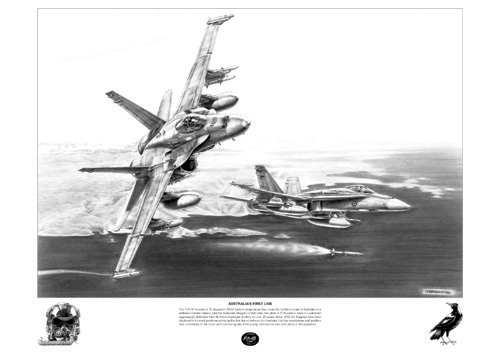 "Australia's First Line"
Ref: JB02
by James Baldwin

Limited Edition of 500

Size: 22in x 16in

Two F/A 18 Hornets of 75 Squadron RAAF launch weapons as they cross the northern coast of Australia on a self escort strike mission. Like the Australian Magpie on their crest, the pilots of 75 Squadron have occupied and aggressively defended their Northern Australian territory for over 20 years. Since 1942 the Magpies have been deployed in forward positions acting as the first line of defence for Australia. It is this remoteness and isolation that contributes to the bond and common goals of the young men and women who serve in the squadron.



The orginal drawing was commissioned by 75 Squadron, RAAF.