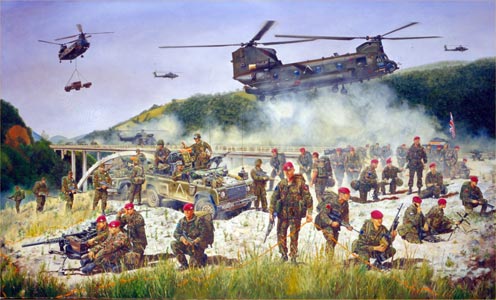 "The Kacanik Defile. 5 Airborne Brigade, 12th June 1999"
Ref: DR087
by David Rowlands

Size 58 x 38 cm

Operation AGRICOLA. On 12th June 1999, 5 Airborne Brigade spearheaded the KFOR advance into Kosovo by securing the Kacanik Defile ahead of the ground forces. The Brigade's joint airmobile operation with the UK support helicopter force followed a rapid strategic insertion to theatre.

The painting, commissioned by HQ 5 Airborne Brigade, depicts a composite scene, albeit an accurate interpretation, toward the northern end of the defile early on 12th June. From the left, a Pathfinder patrol; a Medium Machine Gun team from 1 PARA; a reconnaissance section (in Land Rovers) from 1st Bn Royal Gurkha Rifles; a 3 PARA 'tom'; a mine clearance team from 9 Para Squadron Royal Engineers; 216 Para Signal Squadron TACSAT; with Brigade HQ command group in their rear. Above are Chinooks from 18 & 27 Squadrons RAF, with a Puma from 33 Squadron RAF on the bridge, with Apache helicopters of the US Army providing flank protection. The painting is representative of the combined, joint, all-arms grouping of 5 Airborne Brigade on the day.