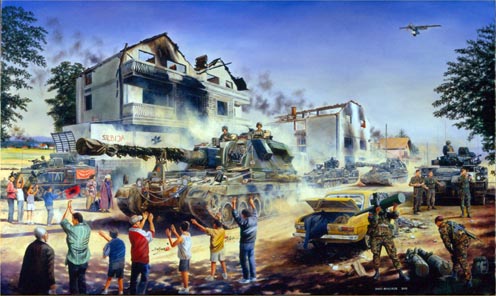 "4th Regiment Royal Artillery. Entry into Kosovo, 12th June 1999"
Ref: DR085
by David Rowlands

Size: 58 x 38 cm

In March 1999, 4th Regiment deployed to the Former Yugoslav Republic of Macedonia as part of a NATO peacekeeping force on Operation AGRICOLA. On 12th June 1999, it crossed the border into Kosovo with lead elements of KFOR. It monitored the withdrawal of Serbian Forces and the disarmament of the Kosovo Liberation Army. Assets from other Royal Artillery batteries were attached for this operation. I was in Kosovo at that time and Major Mike Valenzia RA drove me to different locations to see the varied equipment.

AS90 155mm Self-Propelled guns of 52 (Niagara) Battery drive into Kosovo, and from Urosevac northwards were greeted by locals. The No.1 of A Sub-section is Staff Sgt Gilardi; Bombardier Stephen Prout mans the General Purpose Machine Gun (GPMG).

At the left, the tracked fighting vehicle (FV 436) of P Battery (The Dragon Troop) carries Cymbeline Radar and Hostile Artillery Locating (HALO) equipment. Farther back, parked beside houses burnt by the Serbs, are two HVM (High Velocity Missile) launchers; in travelling mode their curved gates are up, (but would be down when deployed). Overhead flies a Phoenix unmanned aerial vehicle (UAV), with a wing span of nearly 6 metres, operated by 22 (Gibraltar) Battery. Wearing maroon berets, gunners of P Troop (5 Airborne Brigade's close air defence) are armed with Javelin missiles.

Standing in front of the Commanding Officer's Warrior OPV (Observation Post Vehicle) are Major Valenzia; WO1 (RSM) Nigel Carr; and Lt Col Robert Purdy OBE, the CO.