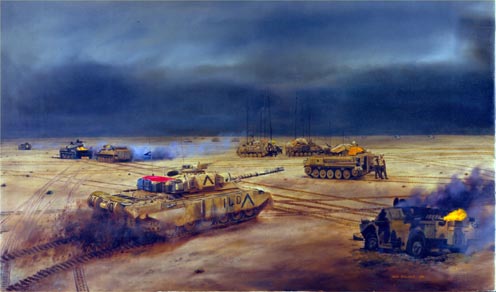 "HQ 4th Armoured Brigade on Objective COPPER SOUTH"
Ref: DR068
by David Rowlands

Image Size 58 x 38 cm

27 February 1991: 4th Armoured Brigade consisted of 14th/20th King's Hussars, 1st Bn The Royal Scots and 3rd Bn The Royal Regiment of Fusiliers. The Brigade was an ad hoc formation and with the exception of the Brigade HQ and 14th/20th King's Hussars the Battle group had not worked or trained together before. Brigadier Christopher Hammerbeck practised the Brigade until he was confident that it was capable of the operations ahead. He commanded 4th Armoured Brigade from his Challenger tank, which is seen in the foreground. He and Major R. Porter supervised the details of this painting.

In 1992, Brigadier Hammerbeck became the Deputy Commander of British Forces in Hong Kong and Chief of Staff, and when I visited the Crown Colony that year with my wife and daughter, he invited us to his office in HMS Tamar, where we discussed details of the painting.