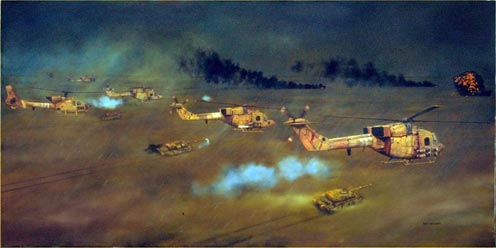 "4 Regiment Army Air Corps in the attack, Operation DESERT STORM"
Ref: DR067
by David Rowlands

Image Size 58 x 38 cm

26 February 1991: The painting shows the three Lynx and three Gazelles from 4 Regiment ordered to assist the Queen's Royal Irish Hussars attack Objective PLATINUM. Observing the left flank are two Gazelles, XX 395 commanded by Sgt Thompson and flown by Cpl Tween, and XZ 372 commanded by SSgt Daly, flown by Lt Tilley; with Lynx XZ 215, commanded by Capt Avery US Army and his pilot Sgt Isherwood, in support. In the foreground are Lynx XZ 199 commanded by Capt Morley and flown by SSgt Seymour, engaging Iraqi armour; and Lynx XZ 221, commanded by Sgt Maddison and flown by Cpl Long, engaging enemy MTLBs.

The aircraft destroyed four enemy tanks and six enemy personnel carriers without loss. The attack was commanded by Major Eustace, from Gazelle XZ 338 flown by SSgt Church, and was the first ever use by the British Army of Lynx TOW missiles in combat.

I travelled by Land Rover during darkness to the Regiment's camp in the desert, where I spent the night under canvas. Next morning at regimental headquarters I made the sketches for this picture under Major Eustace's supervision, shortly after the action. The helicopters were covered in dirt and streaked with oil.