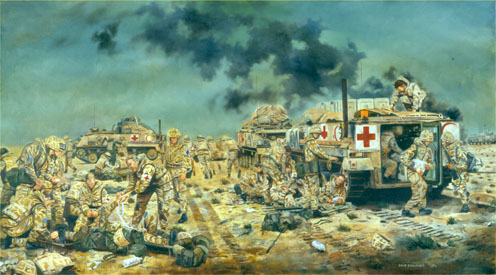 "Regimental Aid Post, 3rd Bn The Royal Regiment of Fusiliers on Objective STEEL"
Ref: DR059
by David Rowlands

Giclee Print
58 x 38 cm

1991: During the Gulf War, nine soldiers were killed and twelve seriously injured as a result of a tragic mistake by US Air Force pilots, who engaged and destroyed two of the Warriors of C Company at 1502 hours on 26th February. At the Regimental Aid Post, the regimental medical officer, Lt Col Stewart Kempster, conducted a triage of the casualties and began to treat the most seriously injured himself. The regimental chaplain, Captain Adrian Pollard, also performed a vital role that day.

The FV432 ambulances were painted with both the red cross and the red crescent.

I was attached to a Warrior crew of C Company in the desert, and at Blackadder Camp, Saudi Arabia, March 1991, I made sketches and notes from the descriptions told to me by medics who treated the casualties at the incident.

At that time, the Regiment had two bands of music. Under restructuring of the Army in 1994, the regimental bands were disbanded and replaced by the Band of the Queen's Division. This painting was commissioned by The Duke of Kent's Band, to commemorate the bandsmen's role as medical orderlies during the Gulf War, and presented to the Regiment.