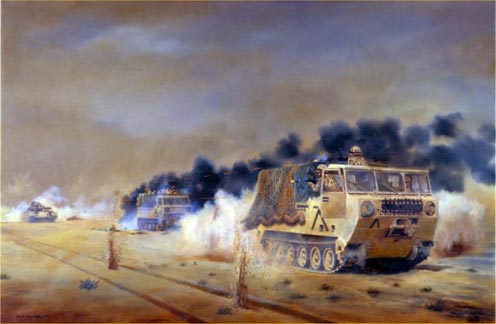 "Sergeant Dowling MM and Lance-Corporal Evans, REME, in action, Southern Iraq "
Ref: DR051
by David Rowlands

Image Size 58 x 38 cm

16th/5th The Queen's Royal Lancers provided the reconnaissance for the 1st (UK) Armoured Division. On 25th February 1991, the regiment led the advance from Saudi Arabia, through the Iraqi defence line and into Iraq. The next day, they were attacking the enemy in the area code-named Objective LEAD.

Each squadron of the Regiment had a small tracked logistical element mounted in M548 load carriers crewed by personnel of the Royal Electrical and Mechanical Engineers. On 26th February, two of these M548s, belonging to C Squadron, were being led by the Squadron Sergeant-Major in his Ferret scout car when an enemy T59 tank appeared and chased them. One vehicle broke down during the pursuit. Fortunately, the T59 lost them in the sandstorm, and the other M548 stopped and was able to take off the crew. As the visibility improved, the tank saw and destroyed the abandoned M548 and gave chase to the remaining one. Lance Corporal F C Evans was firing his General Purpose Machine Gun (GPMG) from the roof, while Sergeant M J Dowling, leaning out of the cab, bravely tried to distract the tank's aim by firing his rifle at it. Both men were killed by the tank's machine gun fire.

Sergeant Dowling was posthumously awarded the Military Medal. This painting was commissioned by the Warrant Officers and Sergeants Mess of 16th/5th The Queen's Royal Lancers, and presented to the Corps of Royal Electrical and Mechanical Engineers.