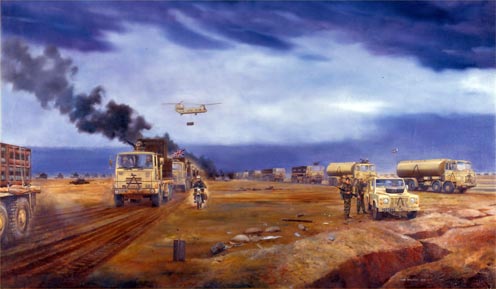 "10 Regiment Royal Corps of Transport Group"
Ref: DR050
by David Rowlands

Giclee Print:
Image Size 58 x 38 cm

After crossing the breach into Iraq, the logisticians carrying combat supplies drove for hour after hour to keep up with the battle groups, following tracks in the sand. The relentless speed of the advance meant there was little time for sleep. This painting shows 14-tonne Bedford trucks carrying ammunition (with an extra pallet of ammunition on the top); TTF bulk fuel tankers of 9 Squadron RCT; and DROPS vehicles carrying Rocket Pod Containers for the MLRS. Flags were flown for extra identification purposes.

WO1 (RSM) Ian McLachlan and Lt Col Philip Chaganis RCT stand beside an Iraqi trench system. They wear temperate camouflage pattern NBC suits, and helmets with desert pattern camouflage cover; 1958 pattern webbing and ammunition pouches, with respirator pouch at the right hip. The RSM cradles his SLR while the CO has a Sub-Machine Gun (SMG). A regimental pennant flies from the radio mast on the side of the FFR Land Rover. The motorcyclist also wears an NBC suit, with an SMG slung round his neck.

10 Regiment was based at Bielefeld, Germany, and the TTF bulk fuel tankers were their only right-hand drive vehicles. The red desert rat of 7th Armoured Brigade was painted (within the black chevron) on the doors of vehicles. The black sphinx was painted on the front of the lorries of 17 Squadron RCT. 10 Regiment did not have its full complement of trailers for their DROPS vehicles.

The under-slung loads carried by Chinook helicopters were mainly engine assemblies for Challenger tanks.