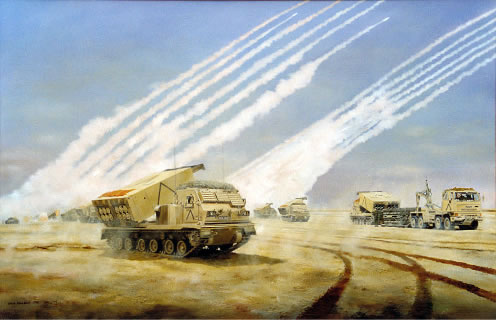 "The Artillery Raids; 39 Heavy Regiment RA"
Ref: DR048
by David Rowlands

Image Size 58 x 38 cm

Between 18th and 23rd February, 1991, immediately preceding the ground assault, Iraqi defensive positions were bombarded by British and American artillery. The Artillery Raids took place just inside the Saudi border all along the front line, from the east coast to west of the Wadi al Batin. The 1st Armoured Division's contribution to the raids was the largest concentration of British artillery since the Second World War.

Further behind the M109 and M110 guns and the locating batteries were the armoured vehicle-mounted rocket launchers of the Multi-Launch Rocket System (MLRS). 39 Heavy Regiment (the only British regiment equipped with MLRS) fired five 'fireplans', (one of them at night). MLRS can ripple-fire 12 rockets in less than one minute.

The Artillery Raids were a major factor in the success of Operation Desert Sword because they contributed to the deception plan by concealing the main point of effort. The ammunition itself was terrifyingly destructive. Furthermore, Iraqi morale, already damaged by the air assaults, was crushed by the artillery bombardment.

At the right of the scene a DROPS vehicle of the Royal Corps of Transport is delivering Rocket Pod Containers, and gunners are preparing to re-arm the MLRS.