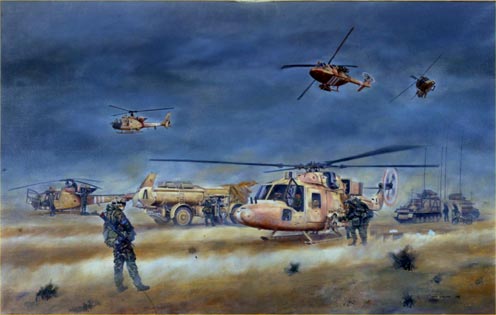 "Helicopter Landing Site in Iraq, Operation DESERT STORM "
Ref: DR045
by David Rowlands

Image Size 58 x 38 cm

4 Regiment Army Air Corps deployed on Operation GRANBY/DESERT STORM as part of 1st (UK) Armoured Division between December 1990 and April 1991. The Regimental Group comprised three Anti-Tank Squadrons (654, 659 and 661 Squadrons Army Air Corps), Headquarters Squadron and a REME Workshop. The picture depicts the HLS established on 26th February 1991 at Grid reference NT 950570, in southern Iraq.

The Lynx rearming and refuelling in the foreground is from 654 Squadron, following a successful engagement with enemy armour on Objective PLATINUM. The two Lynx and the Gazelle in the air are from 659 Squadron, which also operated from the same HLS throughout the day.

I arrived at night at the desert camp of 4 Regiment, commanded by Lieutenant-Colonel Mike Waun. Next day, Major Bob Eustace showed me the grimy, oil-stained helicopters at close quarters and I made notes and sketches. I was flown in a Gazelle to my next encampment in 4th Armoured Brigade.