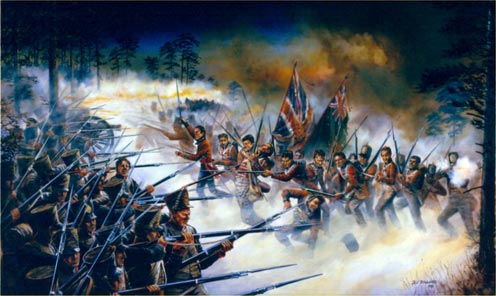 " 'The Bloody 11th' at the Battle of Salamanca, 22 July 1812 "
Ref: DR010
by David Rowlands

Image Size: 58 x 38 cm

The Battle of Salamanca was fought in the stifling heat of a Spanish summer. Late in the day the 1st Battalion of the 11th Foot took part in the final charge against Ferey's Division which was posted on a steep craggy ridge. It was getting dark as the battalion rapidly advanced up the hill, under a very heavy fire of musketry and artillery. As their numbers dwindled, they closed in towards their Colours in the centre of the line, shrouded in acrid powder smoke. Each soldier could see in the gloom, high in front, a thin horizontal line of flashing musket fire. Half-burned discharged cartridge papers had also set the grass ablaze. The redcoats fired when they came within range, then went in with the bayonet.

The French were routed, and they withdrew into the darkness. There were no more than 4 officers and about 67 men of the 11th left to talk over their exploits that night. The regiment earned itself the nickname 'The Bloody Eleventh'.

The picture was commissioned to mark the tercentenary of The Devonshire and Dorset Regiment.