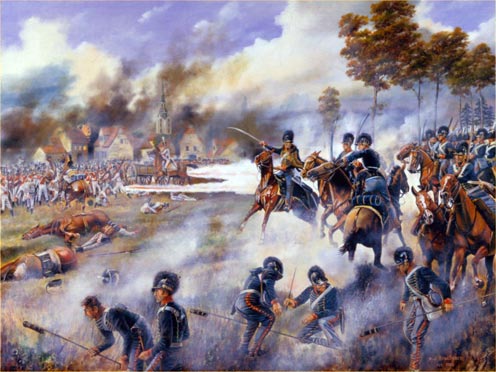 "The Rocket Brigade at the Battle of Leipzig, 18th October 1813"
Ref: DR009
by David Rowlands

Image Size: 58 x 38 cm

In 1805 Colonel Congreve invented the rocket which was placed in the hands of the Rocket Brigade of the Royal Artillery and landing parties of the Royal Navy. Rockets were cheap and simple weapons, light enough to be carried in large numbers , and could be fired in large salvoes from portable rests. The employment of the rocket was sporadic and extremely limited. This was due to its unreliability -- rockets had an unpleasant habit of curving in the air and returning to burst at the feet of those using them -- and its inaccuracy compared with gunfire. In the Peninsular War the erratic behaviour of the projectiles fired by a rocket battery made a most unfavourable impression on Lord Wellington. However, the psychological effect on the enemy was quite powerful, and horses could never stand rocket fire.

The 2nd Rocket Troop left England for Germany in August 1813 and played a distinguished part in the Battle of Leipzig, 16th-18th October. It was the only unit of the British Army present, and was attached to the bodyguard of the Prince of Sweden. Rockets had to be fired at close range to achieve any real success. The rocketeers, given a guard of Swedish dragoons, advanced to attack five Saxon battalions of the French army in the village of Paunsdorf. They opened a destructive fire, which was returned by musketry, and a hot combat ensued. Against the perfect targets presented by the enemy manoeuvring in the mass formations of the period the Troop's 28 rocket tubes did excellent service. When the enemy fell into confusion and began to retreat, Captain R. Bogue, the commander of the Rocket Troop, charged at the head of the squadron of cavalry, and over 2000 enemy surrendered. He was killed at the moment of victory.

At Leipzig the 9-pounder rockets were placed on the ground, pointed at the enemy and fired. A small iron trough for this purpose was carried (in a leather cover) on top of the saddle roll of every third man. Swords were attached to the saddles in action, and the troopers had a double-barrelled pistol in a holster on the left hip. The horse furniture included large leather holsters to carry rockets.