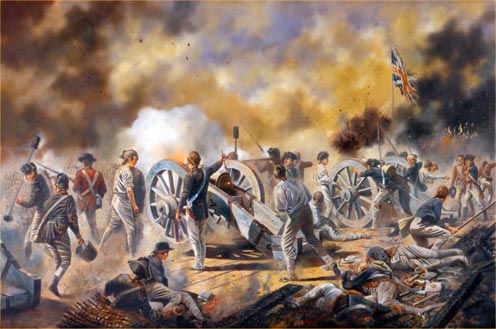 "The Siege of Pensacola, Florida"
Ref: DR008
by David Rowlands

Image Size: 58 x 38 cm

April-May 1781: While Britain's armed forces were engaged in the American War of Independence, the French and Spanish also commenced hostilities with Britain. The Spanish objective in America was to capture Pensacola, the capital of British West Florida. Bernardo de Galvez, Governor of Spanish Louisiana, led an expedition from Havana.

The Spanish besiegers, with some French reinforcements, worked steadily throughout April to push their entrenchments towards the British defensive positions. The British, commanded by Major General John Campbell, were heavily outnumbered, and casualties mounted steadily among the defenders.

About 9am on 8th May a shell from one of the Spanish howitzers landed near the open door of the powder magazine in the Queen's Redoubt. The explosion destroyed the redoubt, killing 76 British defenders and wounding another 24. The Spanish quickly took possession of the redoubt, which gave them a commanding position over the other British fortifications. They installed some cannon which were able to bombard the Prince of Wales redoubt and Fort George, and it was clear that further British resistance was pointless. On the afternoon of 8th May the British commander called for a truce. The British received the full honours of war, and surrendered all of West Florida.

The picture depicts howitzers served by gunners of Captain Johnston's Company, 4th Battalion Royal Artillery, tenaciously defending the Queen's Redoubt against the Spanish. Howitzers were designed to fire explosive shells. They had a larger calibre than a gun, but a shorter piece.