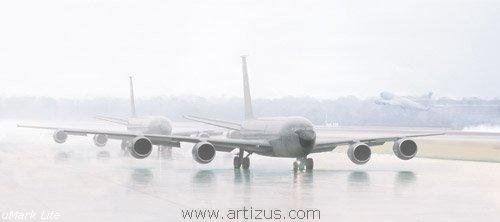 "Airbridge 111"
Ref: DB09LE
by Dru Blair

17 in x 32in Limited Edition S/N Print 950 copies

The Boeing KC-135 has proven to be an indispensable tool for the US Air Force, sustaining and increasing the endurance of both pilot and plane, allowing global reach and force multiplication to any mission. In "The AirBridge III," by artist Dru Blair, several KC-135R's are depicted lining up for take off as the crews prepare to launch yet another vital support mission. The fog shrouded runway creates an aura of intrigue and mystique, and is consistent with the quiet reputation of this essential, but often overlooked aircraft as it carries out its critical task.

This painting rounds out the trilogy of three KC-135R paintings of the same name sake. The previous two, "The AirBridge" and "The AirBridge II" are sold out and are available only on the secondary market.

"The AirBridge III" is carefully reproduced on 100 lb. Archival Stock, each print is individually signed, numbered and inspected by the artist for color consistency and accuracy and is limited to 950 signed and numbered lithographs, and 100 artist proofs. A certificate of authenticity is offered with each print. As the demand for this print will certainly exceed the availability, we encourage you to act quickly to ensure your copy.