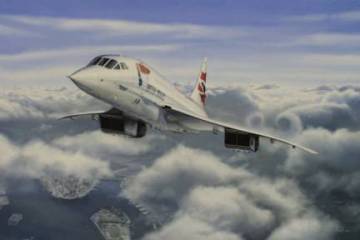 "Concorde - The Last Flight Home"
Ref: BU-RT01
Limited Edition of 500 Prints
Image Size - 335 x 496 mm
Each print individually
autographed by Captain Mike Bannister, British Airways Senior Concorde pilot "Mr Concorde".
October 24th 2003, and British Airways Concorde G-BOAG makes its final scheduled flight from New York to London under the command of Chief Concorde pilot and General Manager of Concorde Operations, Captain Mike Bannister. With Manhattan now far below, Mike punches through the clouds to take Speedbird 002, Concorde G-BOAG, together with its complement of celebrity passengers through Mach 2 for the last time.
Concorde will be a legend in our time and this limited edition print is designed to be a lasting tribute to all who made her, or who operated her, and the privileged few fortunate to fly in her. Unless you are not yet old enough to read and understand this, you may never see the like again in your lifetime. Be proud to have been part of this experience, even if it is only owning and preserving this tribute print.