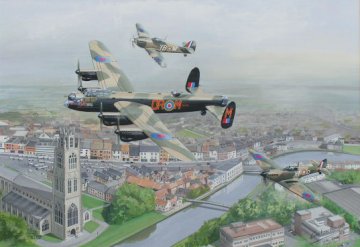 "Salute to the 'Stump' "
Ref: BU-GB01
by Graham Bosworth
This is a limited edition of 600 copies,
each signed by the BBMF pilots
and by artist Graham Bosworth.
In this lovely picture from Graham Bosworth, the Battle of Britain Memorial Flight (BBMF) is seen flying past the very famous Boston Stump in Lincolnshire (properly known as St Botolph's Church). Called the Boston "Stump" because the tower was completed over a period of 100 years, appearing as a stump on the horizon (alternative theory is that the tower should have had a spire on top of it and the 'stump' is therefore the base. St Botolph's it being one of the largest parish churches in England.
Founded in 1390, St Botolphs is aiming to raise £3,000.000 by 2009 in time for its 700th birthday and for much-needed restoration
The BBMF is much beloved by many people of all ages and the sounds of the engines from these World War II aircraft still draws the crowds. Based at Conningsby in Lincolnshire the formation displays throughout Europe.